Scientific background
The scientific starting point
The word "keystone actor" is inspired by the "keystone species" concept in ecology, developed by Professor Robert T. Paine. A scientific paper published in 2015 by Österblom, Jouffray, Folke et al. illustrates that the largest companies in a given industry can operate similarly to keystone species in ecological communities, meaning that they can have a disproportionate effect on the structure and function of the system in which they operate.
The keystone actors of global seafood control 19-40% of some of the largest and most valuable stocks and 11-16 % of the global marine catch. Keystone actors can be defined by the following characteristics:
they dominate global production revenues and volumes within a particular sector
control globally relevant segments of production
connect ecosystems globally through subsidiaries
influence global governance processes and institutions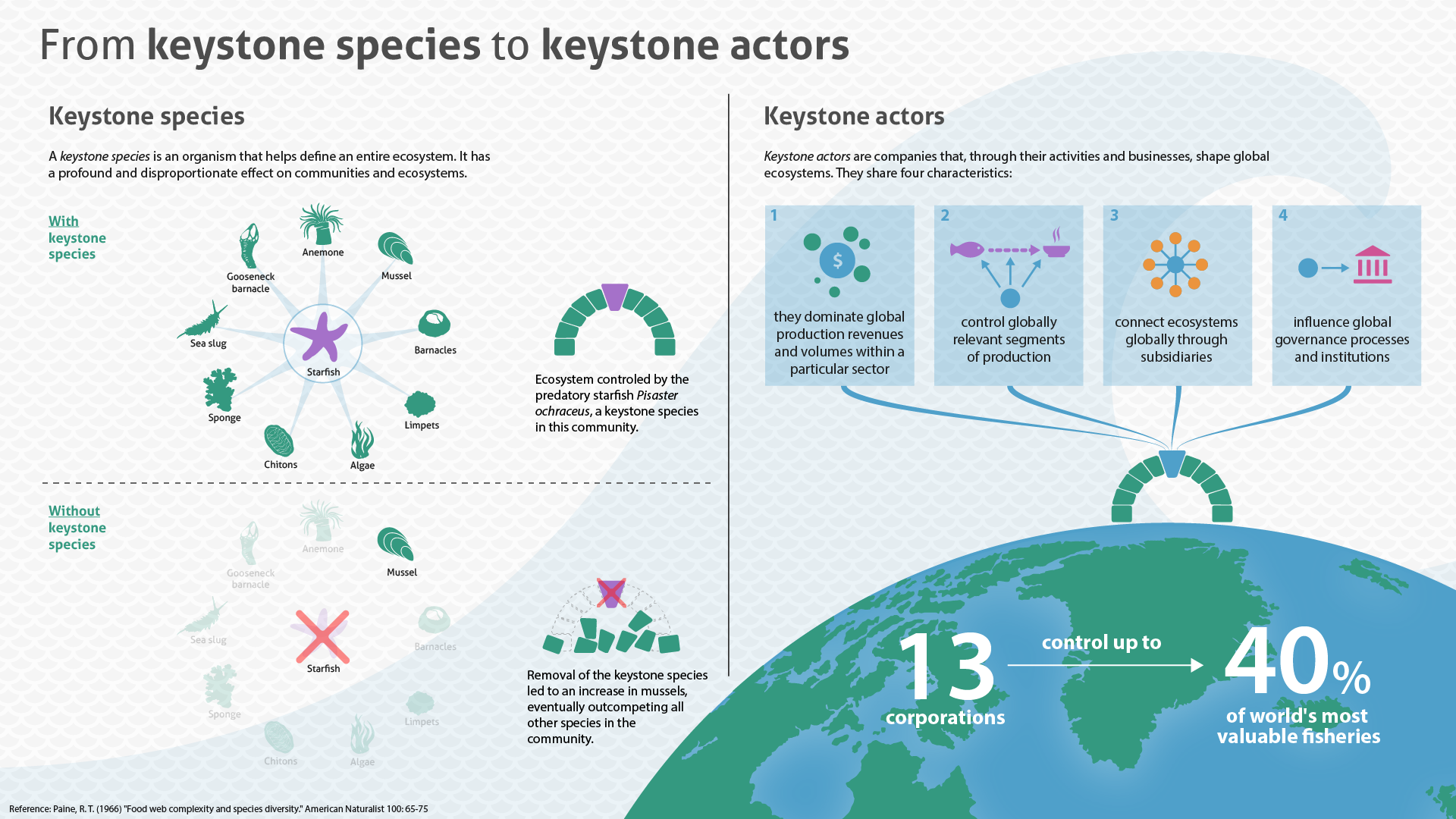 The co-production process
The Keystone Dialogues rest on a scientific definition of the most pressing problems associated to the ocean. The solutions to these problems are however co-designed and co-produced in dialogue between scientists and the keystone actors of SeaBOS. The Keystone Dialogues are designed to test the scientific hypothesis that keystone actors have a disproportionate ability to influence change. In order to better understand the dialogue process, as well as its potential and risks, we have documented and described the emergence of this unique initiative. The ambition is that keystone actors, through the SeaBOS initiative, will stimulate change in the seafood industry, while enabling learning and action also in other sectors.
The keystone dialogues are framed by scientific starting points that are summarized in background briefs for each meeting.
You will find the publicly available background briefs for all dialogues here:
The scientific starting point was developed by researchers at the Stockholm Resilience Centre (SRC), Stockholm University, the Beijer Institute of ecological economics and the Global Economic Dynamics and the Biosphere program (GEDB) of the Royal Swedish Academy of Sciences. The SRC is an international and interdisciplinary research centre focusing on understanding ways to enable sustainable social-ecological systems for human wellbeing and resilience in close collaboration with Beijer and GEDB.