The Amersfoort Dialogue
Working meeting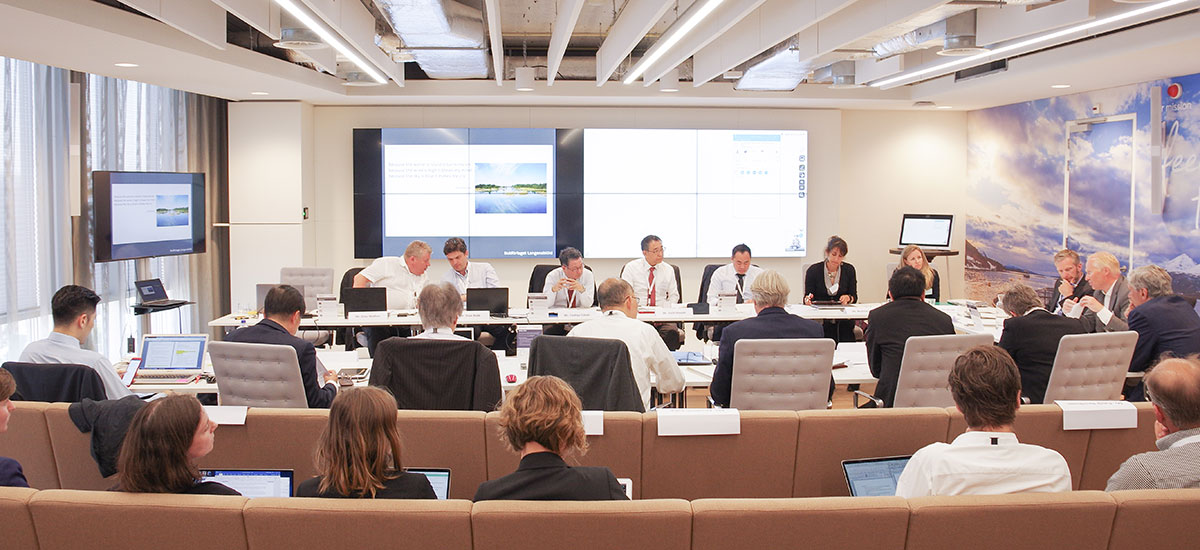 The Amersfoort Dialogue was a working meeting between the SeaBOS member companies, primarily represented by operational staff, and the scientific team. This dialogue was funded by the Walton Family Foundation, the David and Lucile Packard Foundation, and the Gordon and Betty Moore Foundation, and hosted by Nutreco at its headquarters in Amersfoort, the Netherlands. The meeting included preparation for the third keystone dialogue, scheduled for Karuizawa, Japan in September 2018, with a specific focus on advancing the work carried out in a number of Task Forces, developed to translate the SeaBOS commitments to operational activities among the member companies. The meeting was supported by two background briefs, providing additional scientific material to support the initiative and multiple additional material aimed to support SeaBOS members in their work.
Hosts
SeaBOS company Nutreco hosted the dialogue meeting, at its headquarters in Amersfoort, the Netherlands.
Company representatives
The keystone actors at the Amersfoort Dialogue were represented by Knut Nesse (CEO and Chairman of the Executive Board, Nutreco), José Villalon (Corporate Sustainability Director, Nutreco), Yasuhiro Hasegawa (General Acting Manager of Corporate Planning Department, Maruha Nichiro Corporation), Shoji Kishi (Deputy General Manager of Overseas Strategy Department, Maruha Nichiro Corporation), Toshiya Yabuki (General Manager, Aquaculture Business Promotion Office, Nippon Suisan Kaisha, Ltd.), Eiichi Hiyoshi (Senior Advisor, CSR Department, Nippon Suisan Kaisha, Ltd), Dr. Darian McBain (Global Director of Sustainability, Thai Union), Dr. Myoung Woo Lee (CEO, Dongwon Industries), Jae Hwa Lee (Assistant Manager, Strategy Management Team, Dongwon Industries), Einar Wathne (Group Leader and President, Cargill Aqua Nutrition), Dave Robb (Sustainability Manager, Cargill Aqua Nutrition), Wenche Grønbrekk (Head of Sustainability and Risk, Cermaq, representative of Mitsubishi Corporation), Kiyoshi Hattori (Chief of Division of CSR, Kyokuyo Ltd.) and Pitipong Dejjarukul (Vice President, Feed Raw Materials Office, Aqua-business, Charoen Pokphand Foods Public Company Limited (CPF)).
Organisers
The Stockholm Resilience Centre (SRC) team consisted of: Dr. Henrik Österblom (Deputy Science Director and Senior Lecturer, Dr. Carl Folke (Associate Professor; Science Director), Jan Bebbington (Visiting researcher; Professor of Accounting and Sustainable Development, University of St. Andrews), Jessica Spijkers (PhD student), Dr. Elizabeth Selig (Senior Research Scientist, Norwegian Institute for Water Research), Dr. Beatrice Crona (Associate Professor; Executive Director, Academy Program on Global Economic Dynamics and the Biosphere, The Royal Swedish Academy of Sciences), Alice Dauriach (Research assistant, Global Economic Dynamics and the Biosphere Programme), Dr. Max Troell (Program Director and Senior Researcher, Beijer Institute and Stockholm Resilience Centre), Patrik Henriksson (Postdoctoral Researcher), Dr. Lisen Schultz (Leader of the Biosphere Stewardship research stream), Robert Blasiak (Postdoctoral researcher), Tabitha Grace Mallory (Affiliate Professor, Henry M. Jackson School of International Studies), Radhika Gupta (Project Assistant)