The Soneva Dialogue
Transformative Risks and Opportunities for the Global Seafood Industry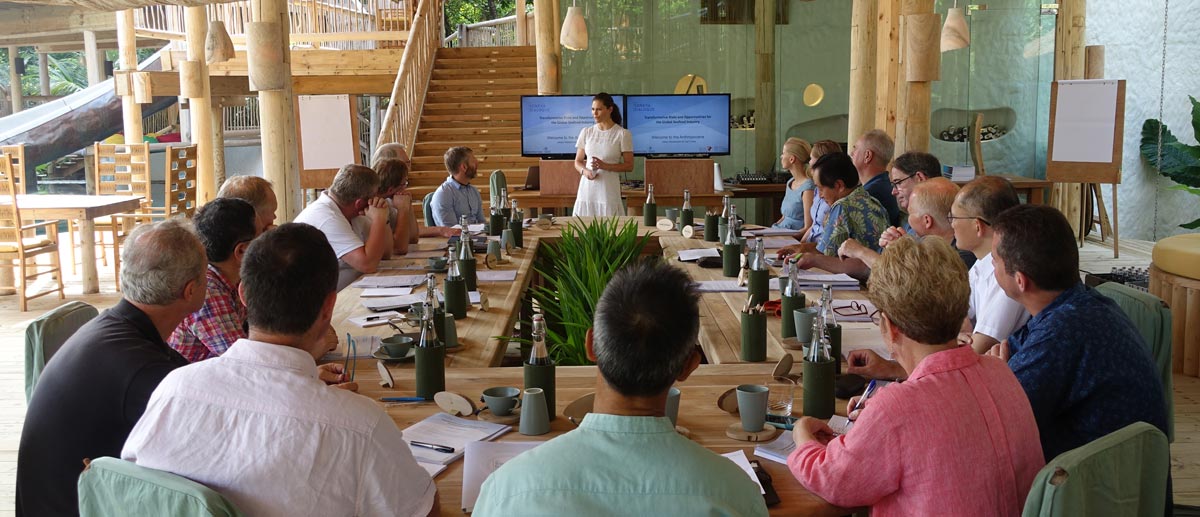 The Soneva Dialogue was the first keystone dialogue. This Stockholm Resilience Centre event was supported by Forum for the Future (FFTF) and
the Soneva Foundation
. The Walton Family Foundation, the David and Lucile Packard Foundation, and the Gordon and Betty Moore Foundation provided funding for the event. HRH Crown Princess Victoria of Sweden acted as Patron for the Soneva Dialogue, which was generously hosted by Sonu and Eva Shivdasani, at their Soneva Fushi resort in the Maldives.
Patron HRH Crown Princess Victoria of Sweden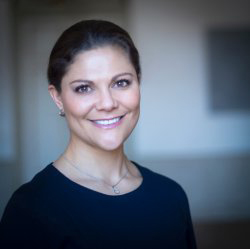 Crown Princess Victoria is the eldest child of His Majesty King Carl XVI Gustaf and Her Majesty Queen Silvia. She is the heir to the Swedish throne. Crown Princess Victoria is an Advocate for the UN Sustainable Development Goals and has a strong personal commitment to healthy and sustainable food. Crown Princess Victoria studied Political Science and History at Yale University. She is a graduate of the Swedish Ministry for Foreign Affair's Diplomatic Programme and holds a Bachelor of Arts degree from Uppsala University.
Sonu and Eva Shivdasani were the hosts of the Soneva Dialogue. They have been at the forefront of sustainable luxury within the hospitality industry since establishing the luxury resort company Soneva in 1995. Soneva was recognised as an environmental pioneer with the 2015 World Travel and Tourism Council Tourism for Tomorrow Award, one of the highest accolades in the hospitality industry. Sonu and Eva established the Soneva Foundation to invest in projects that have a positive environmental, social and economic impact.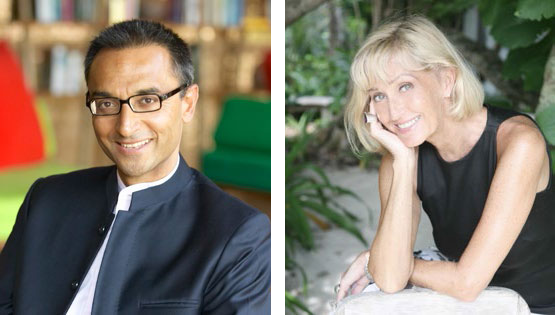 Company representatives
The keystone actors at the Soneva Dialogue were represented by Mr Shoji Kishi (Deputy General Manager, Maruha Nichiro Corporation), Mr Toshiya Yabuki (General Manager, Nippon Suisan Kaisha), Dr Darian McBain (Global Director of Sustainability, Thai Union), Mr Ole-Eirik Lerøy (Chairman of the Board, Mowi ASA), Dr Myoung Woo Lee (CEO Dongwon Industries), Mr Knut Nesse (CEO and Chairman of the Executive Board, Nutreco), Dr Einar Wathne (Group Leader and President, Cargill Aqua Nutrition) and Geir Molvik (CEO Cermaq, representative of Mitsubishi Corporation)
Advisors
The first keystone dialogue was supported by four advisors, who together provided support in relation to:
Science and policy – The Honourable Professor Jane Lubchenco (Oregon State University)
Markets and consumers – Mr Rupert Howes (CEO, Marine Stewardship Council – MSC)
Innovation and sustainable seafood – Mr Volker Kuntzsch (CEO, Sanford)
Cross-cultural communication between the organisers and Japan – Ambassador Magnus Robach (Swedish Ambassador to Japan)
Organisers
The Stockholm Resilience Centre (SRC) team consisted of: Professor Johan Rockström – Director; Professor Carl Folke – Science Director; Associate Professor Henrik Österblom – Deputy Science Director; Mr. Jean-Baptiste Jouffray – PhD student.
Mr. Jonathon Porritt – Founder and Director of Forum for the Future, chaired the meeting. Ms. Maria Padget – Soneva Foundation was project co-ordinator and Mr. Bruce Bromley – CFO of the Soneva Foundation provided additional support.
Background briefs
The first keystone dialogue was supported by nine background briefs, which together provided a starting point for the discussions.