The SeaBOS initiative is at its heart, a science-business collaboration, with its establishment, vision and commitments shaped by close, long-term, open dialogue with a large and diverse team of scientists.
The Scientific Starting Point
Back in 2012, researchers at Stockholm Resilience Centre (SRC) at Stockholm University, the Beijer Institute of Ecological Economics and the Global Economic Dynamics and the Biosphere program (GEDB) at the Royal Swedish Academy of Sciences, began investigating the largest actors in the seafood industry. A scientific paper published in 2015 demonstrated how the largest companies can operate similarly to keystone species in ecological communities (i.e., with a disproportionate effect on the structure and function of marine ecosystems and global ocean governance). The research identified how 13 companies controlled 19-40% of some of the largest and most valuable stocks, and 11-16 % of the global marine catch. These "keystone actors" were defined as large corporations that (1) dominate global production revenues and volumes within a particular sector; (2) control globally relevant segments of production; (3) connect ecosystems globally through subsidiaries; and (4) influence global governance processes and institutions.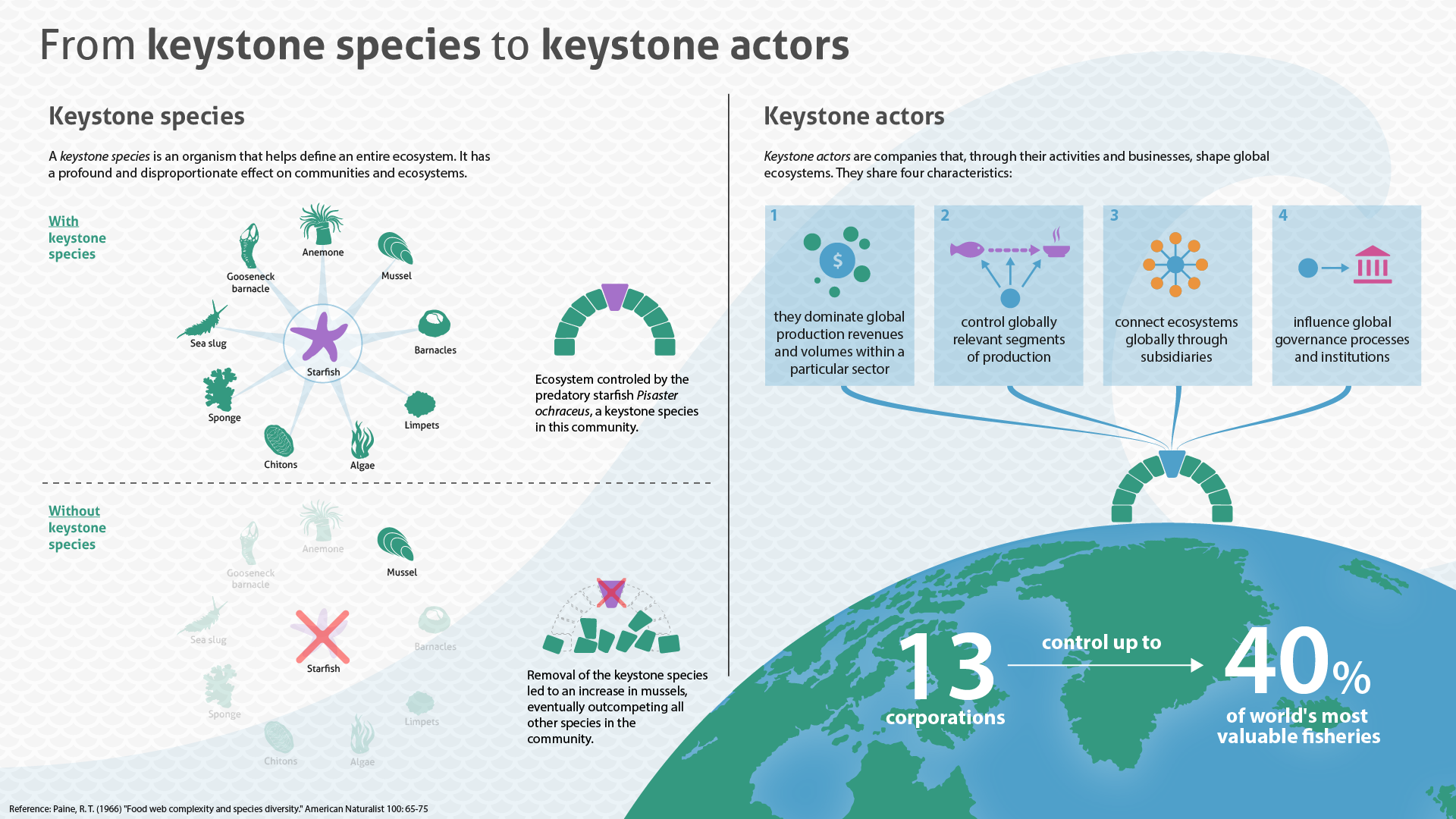 The Emergence of a Global Science-Business Initiative
What was a speculative conclusion in the original research paper became the scientific hypothesis of a global experiment to test whether these companies had an interest and ability to take on a leadership role for ocean stewardship:
"Sustainable leadership by keystone actors could result in cascading effects throughout the entire seafood industry and enable a critical transition towards improved management of marine living resources and ecosystems"
The co-production process involved building trust with companies through repeated interactions and bilateral meetings, listening, learning from and understanding the priorities of CEOs, and producing a series of scientific background briefs. After two years of bilateral contacts between scientists and company representatives, eight of the world's largest seafood companies agreed to an initial meeting in November 2016 to explore transformative risks and opportunities for the global seafood industry. This was the very first keystone dialogue and it laid the foundation for a new global science-business initiative: Seafood Business for Ocean Stewardship (SeaBOS).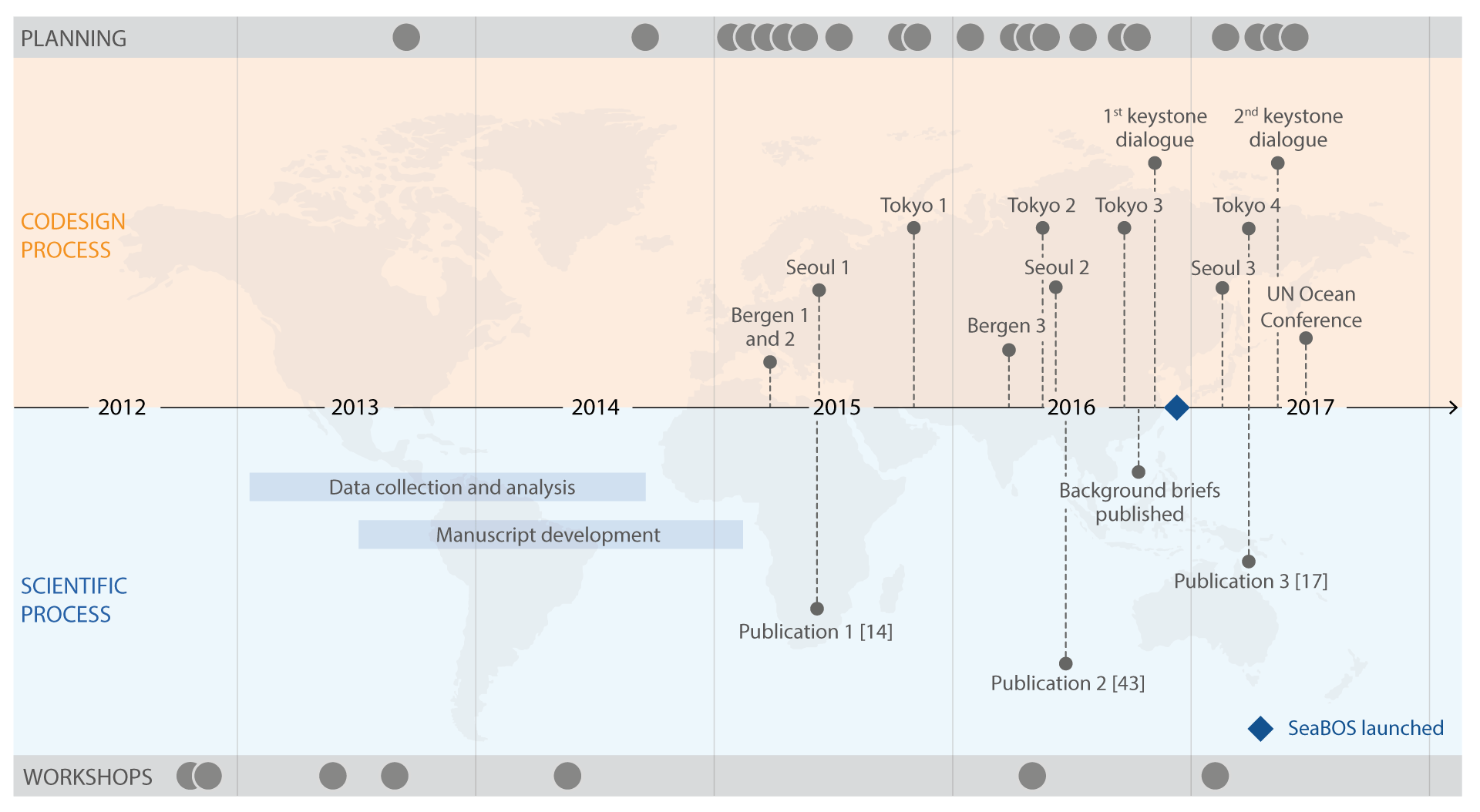 While substantial work has focused on how science interacts with policy, relatively little is known about interactions between science and business. The SeaBOS dialogues are designed to test a scientific hypothesis. In order to better understand the dialogue process, as well as its potentials and risks, researchers are documenting the process with the ambition that this will stimulate scientific learning. The work applies some of the latest thinking on adaptive and ecosystem-based governance and has led to collaborations between many scientific fields, including corporate accounting.
A key factor for turning this initiative from scientific theory to evolving reality is that it is based on transdisciplinary research that integrates and moves beyond the bridging of academic disciplines to engage directly with societal actors for the production and use of knowledge outside of academia. A strength of such multi-stakeholder partnerships is that insights from different groups create mutual learning and understanding. SeaBOS provides the participants with the opportunity to step out of more formal settings and connect in new ways to co-produce knowledge and learn together how to become stewards of the ocean. Another collaborative factor catalyzing progress has been the close engagement of HRH Crown Princess Victoria of Sweden.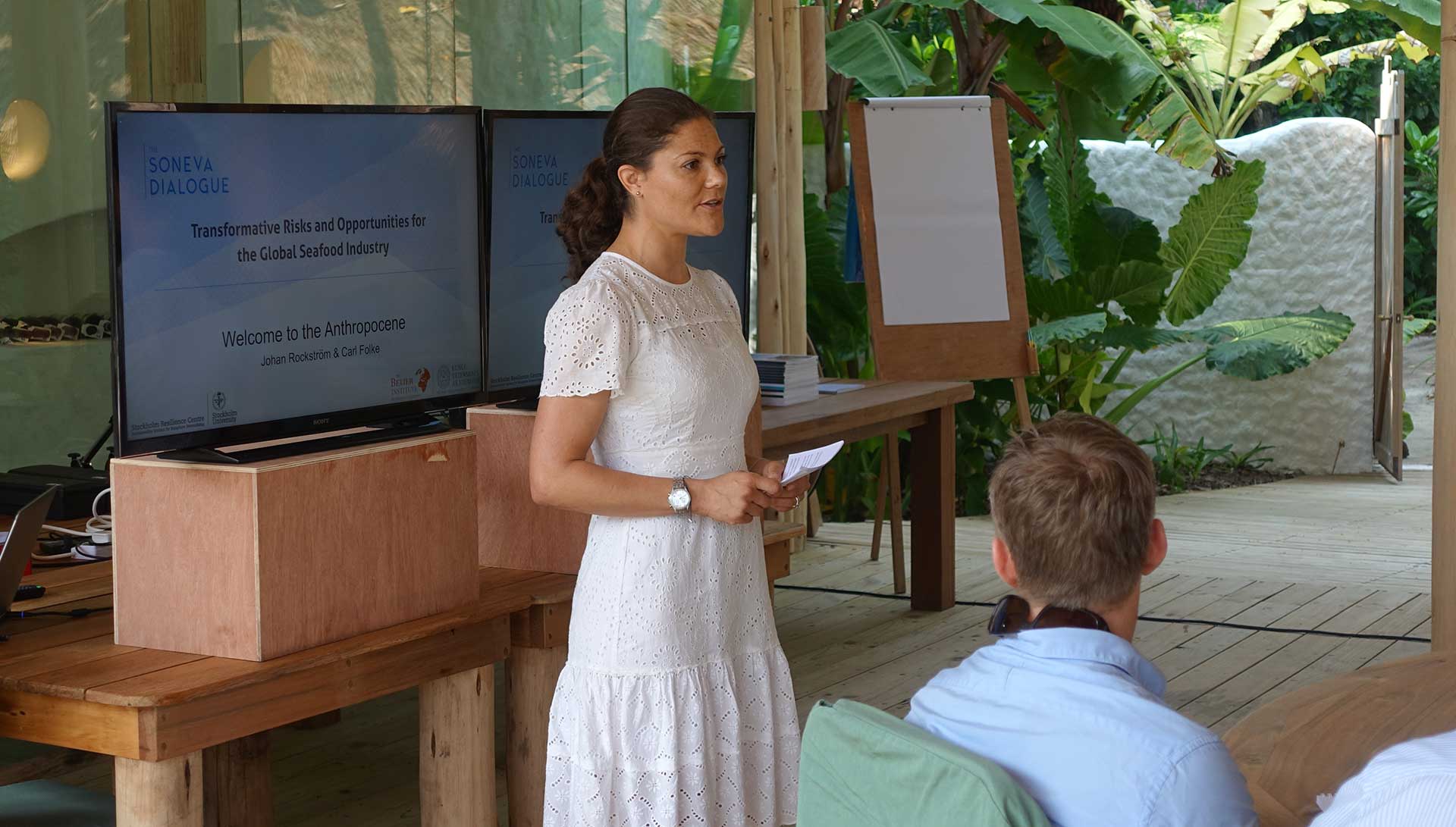 The SeaBOS initiative has drawn attention as a novel cross-sector collaboration within the global seafood industry, involving ten of the world's largest seafood companies and dozens of scientists across disciplines and universities, leading a global transformation towards sustainable seafood production and a healthy ocean. Six task forces have been set up, each led by companies in collaboration with and supported by scientists: (1) Addressing illegal, unreported and unregulated fishing and forced labour, (2) Improving traceability in global seafood, (3) Working with governments to improve regulations, (4) Transparency and governance of SeaBOS, (5) Reducing plastic in seafood supply chains and (6) Climate resilience.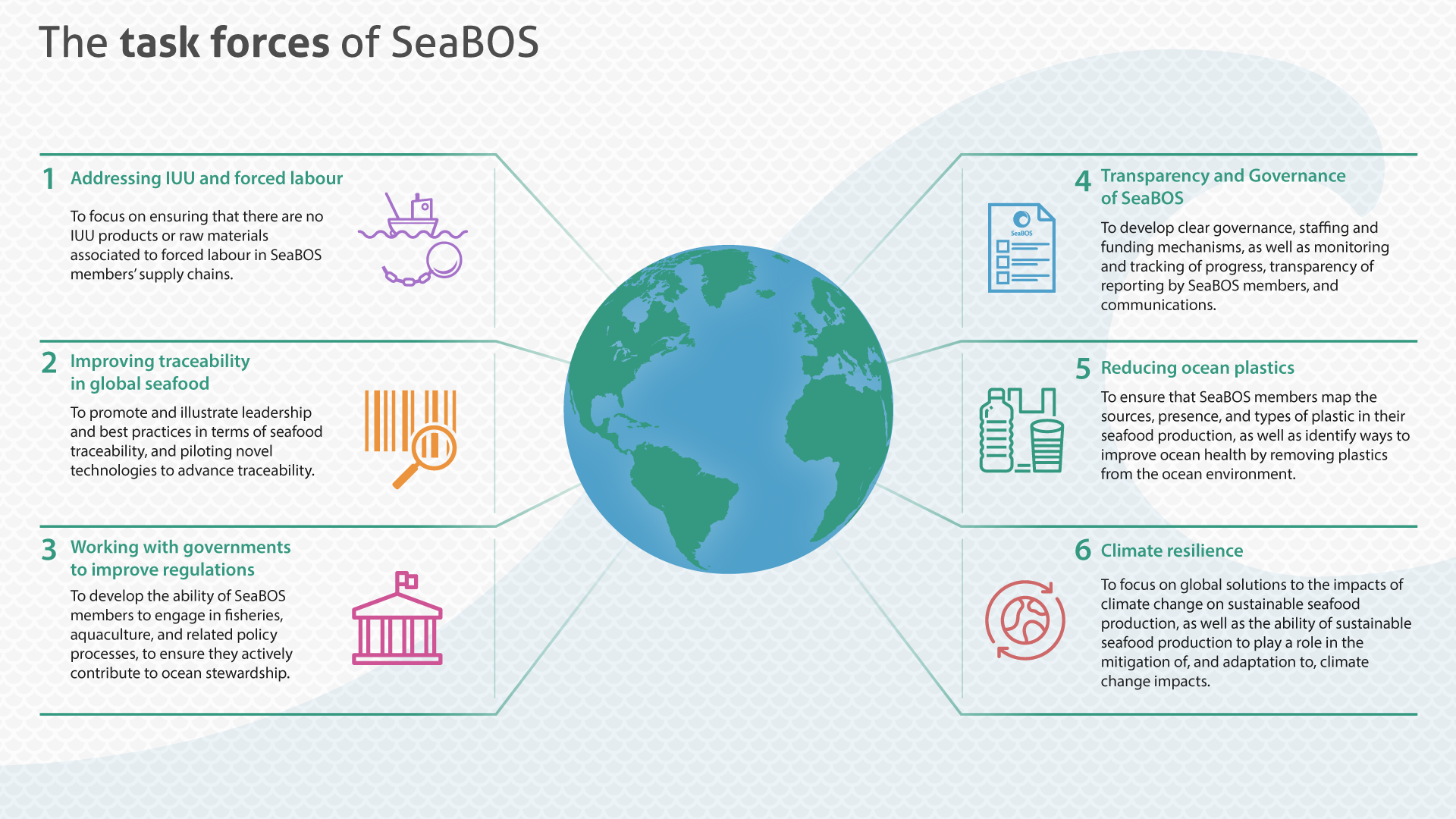 The increased leadership by SeaBOS members and establishment of a formal organization to manage the initiative, means that the responsibility and workload of scientists associated with coordinating and facilitating the work of SeaBOS has been reduced. Yet the science foundation is recognized as a fundamental component of the SeaBOS initiative, and the science team will continue to support this journey towards ocean stewardship. Academic integrity is crucial, and the science inputs have always been funded externally. At the same time, this partnership means that researchers have an unparalleled opportunity to directly support ocean transformation for sustainability, learn from the interactions and both monitor and critically reflect on what changes are happening.
The science team will strengthen its role and ability to develop the frontiers of science for SeaBOS, while increasing its efforts to monitor progress of the initiative and draw out scientific insights from the process of facilitating the Keystone Dialogues, and its outcomes. In doing so it will continue to challenge the SeaBOS member companies to do better, move faster, embrace transformational change and transparency, and provide empirical work to guide them along and hold them to account in the same trust-based manner that shaped the inception of the initiative and its evolution so far.