HOW IT ALL STARTED
The starting point for SeaBOS dates back to 2012 when researchers at the Stockholm Resilience Centre (SRC) at Stockholm University, the Beijer Institute of Ecological Economics and the Global Economic Dynamics and the Biosphere program (GEDB) at the Royal Swedish Academy of Sciences, began research on the largest actors in the seafood industry. Decades ago, scientists had discovered "keystone species" in the ocean – species with a disproportionate effect on the structure and function of marine ecosystems. The first question the SRC-led research team asked was: are there also "keystone actors" within the seafood industry?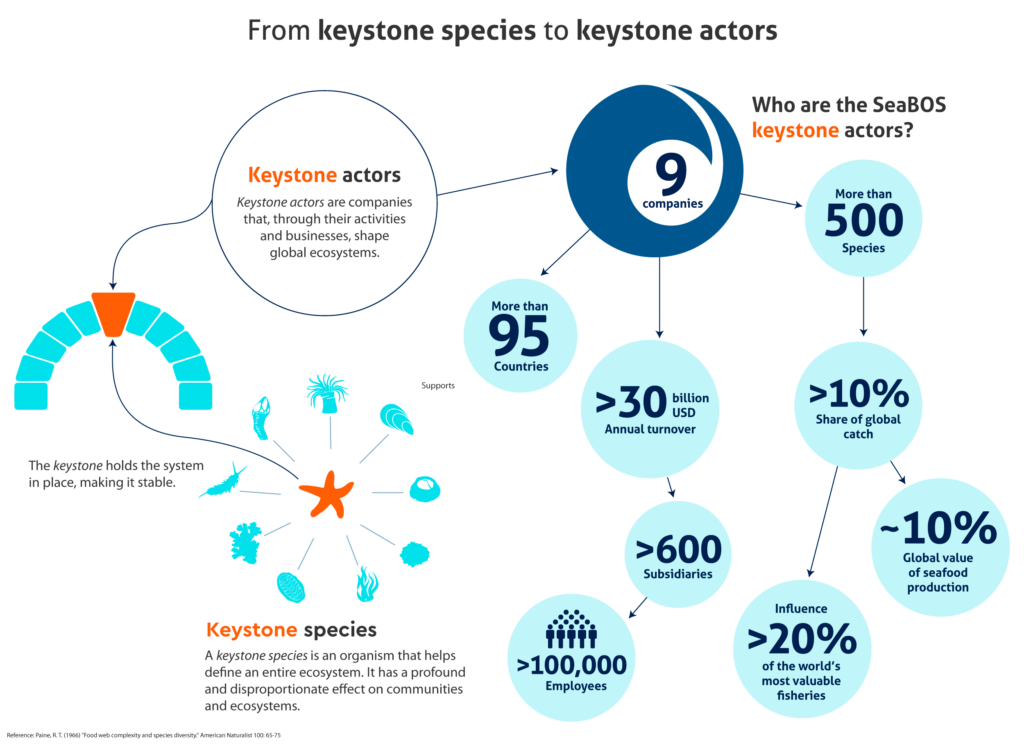 The answer came in a scientific paper published in 2015 demonstrating that just 13 companies controlled 19-40% of some of the largest and most valuable stocks, and 11-16 % of the global marine catch. These keystone actors were defined as large corporations that (1) dominate global production revenues and volumes within a particular sector; (2) control globally relevant segments of production; (3) connect ecosystems globally through subsidiaries; and (4) influence global governance processes and institutions.
The research team's next question was whether these keystone actors could be mobilised to lead a global transformation for ocean stewardship. After two years of bilateral contacts between scientists and company representatives, eight of the world's largest seafood companies agreed to an initial meeting in November 2016 to explore transformative risks and opportunities for the global seafood industry. This was the very first keystone dialogue and it resulted in CEOs of these leading companies publicly committing to a vision and set of shared commitments to ocean stewardship. This laid the foundation for a new global science-business initiative: Seafood Business for Ocean Stewardship (SeaBOS).
Today, nine companies are part of the Initiative along with annual CEO-level talks between the companies and the scientists.