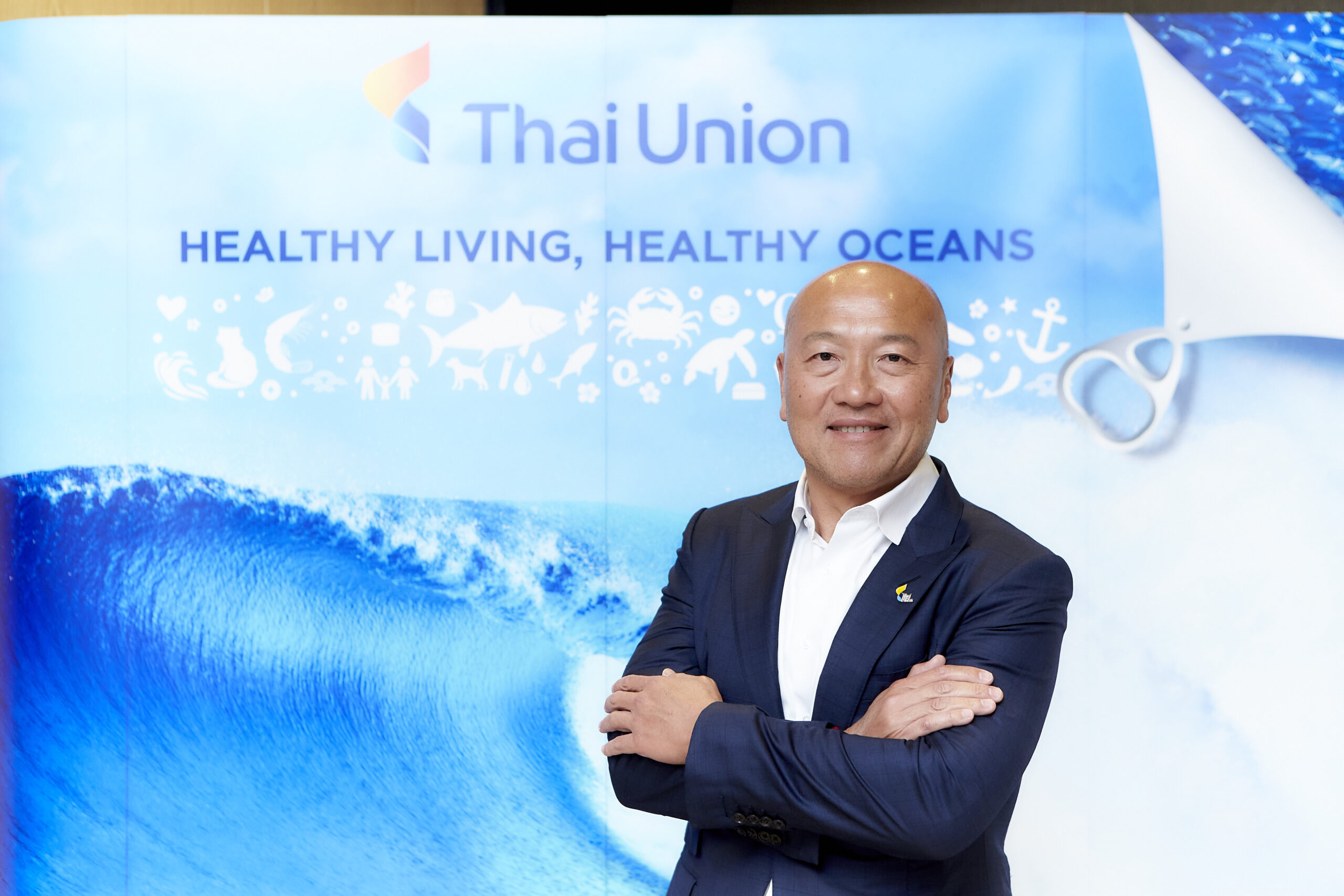 For Thiraphong Chansiri, President and CEO of Thai Union, bringing together the world's largest seafood companies to find solutions to the industry's most intractable problems was a natural fit for his own company's ambitions
SeaBOS is unique because it is the first time ten of the world's largest seafood companies collaborate with science to implement a joint vision to develop more sustainable seafood production and improved ocean health. But what convinced each of these companies to join the initiative and what do they ultimately hope to achieve with it?
We asked the CEOs from each company to share their vision and ambitions about SeaBOS and the future of their industry.
Nothing can be done in isolation
For Thiraphong Chansiri, President and CEO of Thai Union, there is a synergy between what SeaBOS want to achieve and the goals and ambitions of Thai Union. The company has steadily grown since its launch in 1977, reporting a net profit of THB 6,25 billion (USD195 million) in 2020. It has some 49,000 employees located across 14 production locations around the world and owns 15 seafood subsidiaries located in seven different countries.
Their strategy builds on the determination to "provide healthy and tasty products to consumers and on our commitment to industry-leading sustainability."
But for the sustainability part, it is not enough to do well in isolation, something which President Chansiri acknowledges:
"Such is the enormity of the challenges facing the sector, one company cannot do it alone," he says.
This is what convinced him to join SeaBOS. Chansiri is today also the Vice Chair of SeaBOS.
"Bringing together the world's largest seafood companies and using a science-based approach to find solutions to the industry's most intractable problems, was a natural fit for our own ambitions to drive positive change across the industry."
A leader in delivering change
Departing from Thai Union's own global sustainability strategy, there is a determination to drive positive transformation across the seafood industry. "We wanted to be a leader in delivering change not just at Thai Union but across the seafood industry as a whole."
This brings us back to SeaBOS' own raison de'tre. In the 1960s, American ecologist R.T Paine described how some species exert much stronger influence in an ecosystem than others. He called them "keystone species".
Some 50 years later, Paine's concept became the inspiration for researchers at the Stockholm Resilience Centre to explore whether similar patterns could be seen within the corporate world. Researchers spent several years studying the "ecology" of these companies and engaged increasingly closely with them in order to deal with unsustainable practices such as overfishing and destructive impacts on people, habitats, and non- target species in seafood production.
The end result was SeaBOS.
"When you bring together likeminded businesses that are equally ambitious you can achieve change on a global scale. Collectively, we have the strength and reach to make a difference. Plus, with our pursuits firmly grounded in scientific evidence, it makes SeaBOS a truly unique proposition," Chansiri explains.
Specifically, he believes, SeaBOS allows the companies to work together to pursue change – whether it be for the sustainable stewardship of fisheries, labour conditions on vessels, or ocean plastics.
High level of trust
But the seafood industry runs deep and SeaBOS companies alone will not be able to transform the entire seafood industry. What are the best ways to influence partners and supply chains?
For Chansiri, it is important to find likeminded and credible organizations that can support scaling up global action and provide critical on-the-ground expertise and outreach. In addition, he says, companies need to understand their own supply chain, build trust and partnerships with their suppliers.
Capacity building and training are also essential, while companies also need to clearly communicate requirements, and align with other industry partners as much as possible.
Five years after it's launch, SeaBOS has a clear vision, but much work remains. For Chansiri, it is crucial that the work of the individual member companies remains aligned with that of SeaBOS.
"We have a high level of trust among all of the SeaBOS partners, and by adopting a science-based approach to solutions for the challenges facing the industry we are making an enormous difference. Thai Union's own goals and ambitions align with those of SeaBOS, and so together we want to deliver strategies and initiatives that protect our oceans, ensure fisheries around the world are sustainable, and protect workers across the entire industry," he says.
Related content
An eye-opener and a changemaker: interview with Dr. Myoung-Woo Lee, CEO of Dongwon Industries
Why change needs to start from within: Geir Mollvik, former CEO of Cermaq
Joining forces is better than trying to solve things alone: Shingo Hamada, President and CEO of Nippon Suisan Kaisha