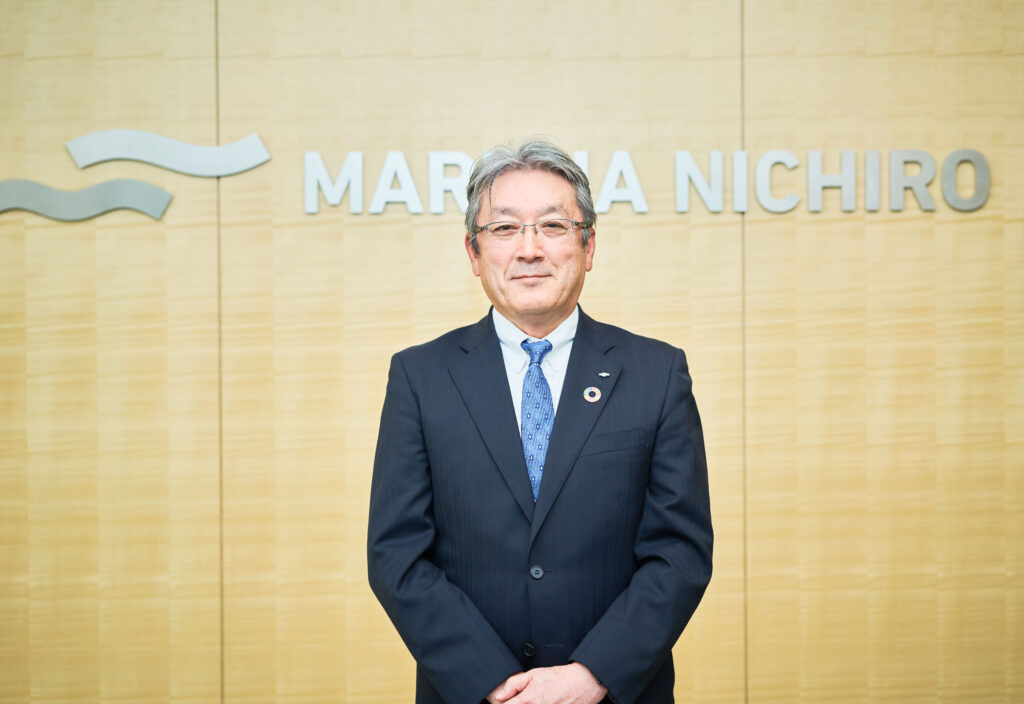 Maruha Nichiro has grown from a small fishing business 140 years ago, into one of the world's leading integrated food companies today. For President and CEO Masaru Ikemi, being one of the giants in the industry brings with it a special responsibility to lead the way when it comes to sustainability. And from the start, SeaBOS has been the best forum for this work.
Maruha Nichiro is the world's leading fishery company with net sales of over 866 billion yen (roughly $6 billion), and more than 12 thousand employees in 152 group companies across a global network of 70 countries and regions. The company has a long corporate history with fishery resources as its livelihood, but Masaru Ikemi, President and CEO, is acutely aware that the world's marine resources are not limitless.
"It is no exaggeration to say that the global environment is currently in a critical situation due to various threats such as climate change, depletion of resources, and destruction of ecosystems," he says.
Central to Maruha Nichiro's core values therefore, is an understanding that good business comes with big responsibilities and that Maruha Nichiro's position in the industry entails corporate responsibilities that go beyond productivity and profitability.
SeaBOS is built on a similar understanding. When a 2015 scientific paper revealed that just 13 companies controlled large parts of global marine resources, it became SeaBOS' aim to mobilise these so-called keystone actors to lead a global transformation in ocean stewardship.

A natural forum for industry leadership
As an industry leader with a long history in fishing, participation in SeaBOS's efforts was a natural fit for Maruha Nichiro. In fact, when the organisation was established in September 2018, Maruha Nichiro's president (at the time), Shigeru Ito, was appointed as SeaBOS' first chairman, a position he held until October 2020.
"We feel that SeaBOS's approach, which effectively utilises scientific approaches, and which enables the world's major seafood companies to work hand in hand to solve problems beyond corporate frameworks is very meaningful and sends a powerful message to the industry" says Masaru Ikemi.

Stakeholder engagement a critical component
But, alongside the special role that is incumbent on industry leaders, Mr. Ikemi is clear about the limits of what a single player can achieve in the face of the challenges ahead. "There is a limit to what we can do alone in the current global environment. In order for fishery businesses to sustainably operate their businesses and continue to provide marine products to the world, we believe it is important to involve all stakeholders in the entire seafood industry.
Extending sustainability initiatives beyond the boundaries of our own group to the entire supply chain is never easy. At the same time, we strongly recognize that we are in a position to actively take leadership and actions to show to our partners in supply chains to follow," says Masaru Ikemi.
Masaru Ikemi also also emphasises the fact that sustainability is a key concern for players of all sizes. "There are many small-scale businesses in the fishery industry around the world and the level of management also varies greatly. But issues such as IUU fishing, forced labor, child labor, plastic pollution, climate change have a major impact on the entire industry and on individual companies regardless of the size of the business."

A SeaBOS collaboration to affect greater change
SeaBOS provides unique possibilities to leverage collaboration with other industry leaders to affect greater change. As one of three Japanese member companies, Maruha Nichiro is in a favourable position to lobby for greater change in the country.
"We recognize that communicating SeaBOS's goals to local governments and industry associations is an important mission for us as a member company. Marine resource management in Japan lags far behind where it should be and we acknowledge this and will seek to better understand the reasons for this and work toward greater change together with the three Japanese member companies," says Masaru Ikemi.
"By creating a strong trust, I believe we will be able to influence and transform together with our partners."

Related content
A fundament for future business
Blending personal passion with collective learning
Why change is gonna come, Therese Log Bergjord, CEO of Skretting and Chair of SeaBOS
To succeed, alignment is crucial: Thiraphong Chansiri, President and CEO of Thai Union
An eye-opener and a changemaker: Dr. Myoung-Woo Lee, CEO of Dongwon Industries
Why change needs to start from within: Geir Mollvik, former CEO of Cermaq
Joining forces is better than trying to solve things alone: Shingo Hamada, President and CEO of Nippon Suisan Kaisha